As a real estate broker, you're well familiar with the glossy world of polished photography and videography. Because this industry – your industry – jumped on board long before most others. In fact, many of us can no longer count on two hands how many years we've been working with professional photographers. It's simply the standard. But you're not quite sure how it all ties in to online marketing for real estate brokerages.
And now, whether it's been days or weeks or months (or – shudder – years!), you've felt the universe tapping you on the shoulder: "It's time…" Time for a new round of headshots or photos of the team. Time for some new B-roll (ex.to round out your Instagram Reels) and better imagery for your social media. Time to photograph those new communities you want to represent or the locations where you're looking to expand. Time to up your game.
You always have a lot on your plate, though. Adding something new? Especially something that takes a lot of planning and time? It's stressful. That's exactly why we created this photo & video planning guide: to make it easier to take an item off your plate. Even better, an important item.
Let's get started:
Before the Before (Or, Don't Even Think About a Photoshoot Until You Do This)
A photoshoot is a quick item to check off your to-do list – right? It's a mile long, anyway. There's a lot that goes into online marketing for real estate brokerages.
Wrong. Oh, so very, very wrong.
Here's the thing: All brokers do photoshoots. Great brokers strategize photoshoots.
At Peak, if you're a brand development client, you'll notice immediately that your very first photoshoot – the most basic of the basic – isn't scheduled until Phase 2 of the brand development process.
Why not? Because photoshoots are a result of and complement to your branding. In other words, you cannot properly strategize your photoshoot if you don't already have your real estate brand architecture, unique selling points (USPs), company culture, brand story, and other critical elements in place. It would be a waste of time and money.
But why not? Because even that initial photoshoot is rooted in all of the above. At Peak, this Phase 2 photoshoot is used to craft the visual story for your brand: all those things that make you, you. And if you don't have that in place, then you're not yet ready for a photoshoot.
(Tip: Not sure whether you have solid branding? Here's how to determine if it's time to rebrand your business.)
Before Your Photoshoot: Strategize!
There are many types of real estate photoshoots. So, before you do anything, decide on which type (or types) you're going to plan and strategize for your next session.
As a broker, there's a lot to consider. While your agent photoshoots are all about personal branding – and your personal broker brand will be, too – as a broker, you have many (many!) other business considerations, too.
We hate to call it the tip of the iceberg, but your brokerage needs to build a media library that includes, at the very least, photos and videos of:
Your Brand
As we discussed above, your initial brand or rebrand photoshoot is all about – you guessed it! – your brand. This is your opportunity to set a tone and tell a story through visuals. That's what online marketing for real estate brokerages is all about, after all.
As such, this initial photoshoot requires meticulous attention to detail, close coordination with your photographer/videographer, and a thorough understanding of exactly what types of images are required to communicate your brand personality and offerings.
Home Types
These aren't individual homes but home types. In other words, these are the types of properties you represent (or hope to represent in the future).
For example, this could be as basic as photographing/videoing several types of condos, single-family homes, and homesites in your area. (Be sure to get a good cross-section of the available types – all price ranges, geographic areas, etc.) But it can also extend to lifestyle elements, like modern architecture vs. historic homes. It can be about buyer/seller types, such as families or empty nesters looking to downsize. (Speaking of, like home staging, models can really take your photos to the next level!)
Location/Areas
You have a region or area that you cover currently. You're going to want a significant repository for photo and video coverage of area touchstones, from local amenities and services to lifestyle elements, like the beach.
Choose a photographer who can also provide you with drone photography, as aerial photos give a better and fuller picture of everything from an individual neighborhood to an overall region. And if you're also going the videography route, be sure to get plenty of B-roll footage. (You'll find that you use it all the time.)
Agent Headshots & Team Photographer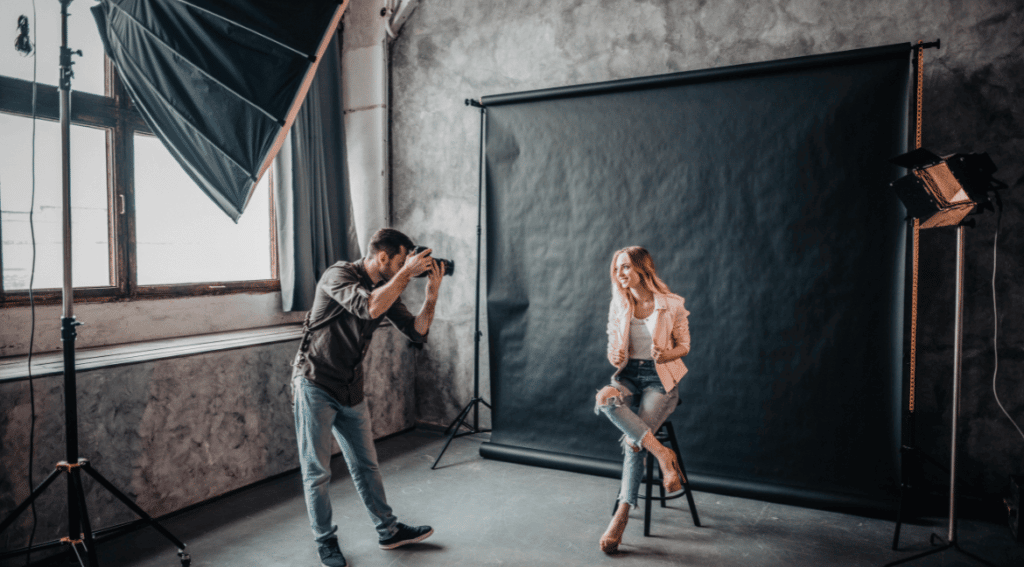 Once you have your brand photography and videography complete, the next-most important element for your brand is going to be agent headshots and office/team photography. These photos are integral to online marketing for real estate brokerages.
You're well aware that real estate is an exceptionally personal business. Your clients crave connection and comfort – and your agent headshots are a great start to building that rapport. In the same way, your team and office photos are a jumping-off point to making people feel comfortable. In other words, your photos say "hi, this is what walking into our office feels like." Make sure it's a good first impression.
Services
Your brokerage offers a specific set of real estate services. The most obvious are the ones you offer to buyers and sellers.
But beyond that, there can be more. For example, do you offer help finding long-term rentals? If you're located in a vacation area, do you do short-term property management? (Or do you specialize in short-term rental/income property purchases or sales?) Do you have an exclusive connection with certain developers, communities, or architects? Now's the time to use your photography and videography to not just talk the talk through your advertising but to walk the walk through your visuals.
Lifestyle
Every neighborhood, town, and city has a lifestyle promise. What's yours? (Not sure? See above, re: brand development.)
Your photography needs to create a visual story of your area's and real estate niche's lifestyle promise. Whether it's culture and nightlife or hiking and sunset surfing, build your library of lifestyle photos. They'll be useful not only on your website and in occasional listings, but also throughout your content and social media.
Individual Properties
You know that you need professional photography for all of your listings. We'll leave it at that… for now! (See our detailed checklist info, below.)
Individual Communities
It's so easy to forget, but you need to build a deep library of every community and development you serve. From walking trails and corner stores to luxury beach clubs and golf courses – if a community amenity, service, or feature exists, you should have a great photo of it (and in the best weather, to boot).
Upcoming Social / Content
Think those lists were long? Here's where it gets really methodical.
As you plan and strategize all your upcoming content – that's blog posts, email campaigns, social media, and and all your other online marketing for real estate brokerages – you need to create a list of deliverables over the next three to six months.
Once you have that list – and, to be clear, we mean a very specific list of the blog post topics and titles, the email topics, the Instagram Reels, and all the other specific social media content you're planning – you need to schedule photoshoots to complement and illustrate all of the above.
Team Building
If your team goes to local events, conducts team-building events, throws company parties (ex. at the holidays), then this these offer excellent opportunities to take photo and video, which you'll use across platforms and content types.
Tip: At Peak, our marketing retainer clients receive quarterly photoshoots. In other words, every three months, we schedule another professional session. That shoot includes a full checklist of all the images we need (and that you don't currently have) to pair visuals with your planned content.
Yes, this requires detailed planning. Yes, you have to be systematic. And yes, there is a huge amount of planning and double-checking and coordination involved. But, if you're going to plan and pay for and execute professional photo and video shoots, then you want (and need) to do it right.
Online Marketing for Real Estate Brokerages: Download our Full Photo & Video Checklist
From business development to brand launch to day-to-day marketing and brand management – at Peak, we're with you every step of the way.
We know that this guide just barely scratches the surface. Think of it as not even the diving board, but as the locker room before walking out onto the pool deck before climbing the stairs to the diving board… from which you then need to actually dive.
Okay, so that's a long-winded way of saying that there's still a long path to travel from now to a deep, on-brand photo and video library that covers all your many visual and content needs. If it helps, know that it'll take months or even years to get there. And that's okay, because the important thing is that you're on your way.
To get you started, we've pulled together our master photo/video list for real estate brokerages ­­– and we're sharing it here, for the very first time. In addition to our comprehensive guide on creating your brand vision and visuals, choosing photo vs. video, prepping your agents, and planning specific shots, we're spilling the secret of our full photo and video checklists. You won't want to miss it!